The United Church of Christ Mental Health Network is blessed to have Rev. Dr. Rachael Keefe, author of The Lifesaving Church, as a board member and our vice-chair. We have compiled some of her videos along with other resources for National Suicide Prevention Awareness Month. The UCC MHN hopes and prays that you will find the resources useful and helpful as we continue to navigate our current way of life with COVID-19.

Lifesaving Measures
By Rev. Dr. Rachael Keefe
Here is a list of some things you can be doing right now:
Increase your knowledge about mental illness and suicide prevention. NAMI is a great source for mental health information and AFSP is a good place to learn more about suicide prevention.
Create small groups of active members and friends of your congregation with a designated leader. The leader would be responsible for making sure each small group member is contacted each week. This can be done via Zoom or another platform, emails, texts, phone calls, or letters. In the congregation I serve, small groups have lessened the burden for congregational care teams.
Consider creating interest groups for building kinship. These groups would meet online monthly (or weekly if there is interest). The topics of the groups can vary from book clubs to hobbies. There is no limit if people are willing to share their skills, interests, and hobbies.
Ask your pastor to host a weekly online gathering time for folx to check-in. There's no specific topic, just a time to talk with each other.
Identify any people who might be particularly vulnerable during the pandemic and make sure they are connected to the community. Make sure to note those who live alone and might be feeling isolated, elders living in care settings who are not able to have in-person visits, those who live with ongoing mental health challenges, and those who are struggling with physical health conditions. There may be circumstances in your community that increase the risk for mental health conditions for a particular population (e.g. farmers, factory workers, those who are furloughed or unemployed due to COVID-19). Be sure to include these people on your list for additional outreach.
Include local resources for mental health care in your church newsletter.
Online support groups can be started for people experiencing an increase in mental health challenges.
Online support groups can also be started for those experiencing grief or loss.
Explore the possibility of getting connective technology to those who don't have it. For example, can simple tablets be donated or purchased for those who don't have a smartphone? Are there internet providers in your area offering free or reduced-price services for those in need?
Name mental health struggles in prayers during worship. It is as important as ever to break the stigma and silence surrounding mental illness.
Contributed by board member and vice-chair of the UCC MHN, Rev. Dr. Rachael Keefe as published at Luther Seminary's Faith+Lead.
Suicide Prevention Lifeline (Veterans Crisis Line),

please call 1-844-493-8255

For TTY Users:

Use your preferred relay service or dial 711 then 1-800-273-8255.

Text "TALK" to 38255.
Youth LifeLine, please call 1-800-273-8255. 
Suicide Prevention Lifeline CHAT.
Nacional de Prevención del Suicidio Lifeline
The Trevor Project provides support 24/7 at 866-488-7386 or text START to 678-678.
TransLifeline is available 24/7 at 877-565-8860.
VIDEOS ON SUICIDE PREVENTION
VIDEOS FOR CLERGY: MAKING REFERRALS
Warning Signs
 
Here are a few other warning signs of suicide:
Increased alcohol and drug use

Aggressive behavior

Withdrawal from friends, family, and community

Dramatic mood swings

Impulsive or reckless behavior
Suicidal behaviors are a psychiatric emergency. If you or a loved one starts to take any of these steps, seek immediate help from a health care provider or call 911:
Collecting and saving pills or buying a weapon

Giving away possessions

Tying up loose ends, like organizing personal papers or paying off debts

Saying goodbye to friends and family
Risk Factors
Research has found that 46% of people who die by suicide had a known mental health condition. Several other things may put a person at risk of suicide, including:
A family history of suicide
Substance use. Drugs can create mental highs and lows that worsen suicidal thoughts.
Intoxication. More than 1 in 3 people who die from suicide are under the influence of alcohol at the time of death.
Access to firearms
A serious or chronic medical illness
Gender. Although more women than men attempt suicide, men are nearly 4x more likely to die by suicide.
A history of trauma or abuse
Prolonged stress
A recent tragedy or loss
Support In A Crisis
There are a few ways to approach a suicide-crisis:
Talk openly and honestly. Don't be afraid to ask questions like: "Do you have a plan for how you would kill yourself?"
Remove means such as guns, knives or stockpiled pills
Calmly ask simple and direct questions, like "Can I help you call your psychiatrist?"
If there are multiple people around, have one person speak at a time
Express support and concern
Don't argue, threaten or raise your voice
Don't debate whether suicide is right or wrong
If you're nervous, try not to fidget or pace
Be patient
Like any other health emergency, it's important to address a mental health crisis like suicide quickly and effectively. Unlike other health emergencies, mental health crises don't have instructions or resources on how to help or what to expect (like the Heimlich Maneuver or CPR). That's why NAMI created 
Navigating a Mental Health Crisis: A NAMI Resource Guide for Those Experiencing a Mental Health Emergency
, so people experiencing mental health emergencies and their loved ones can have the answers and information they need when they need it.
Promote National Suicide Prevention Month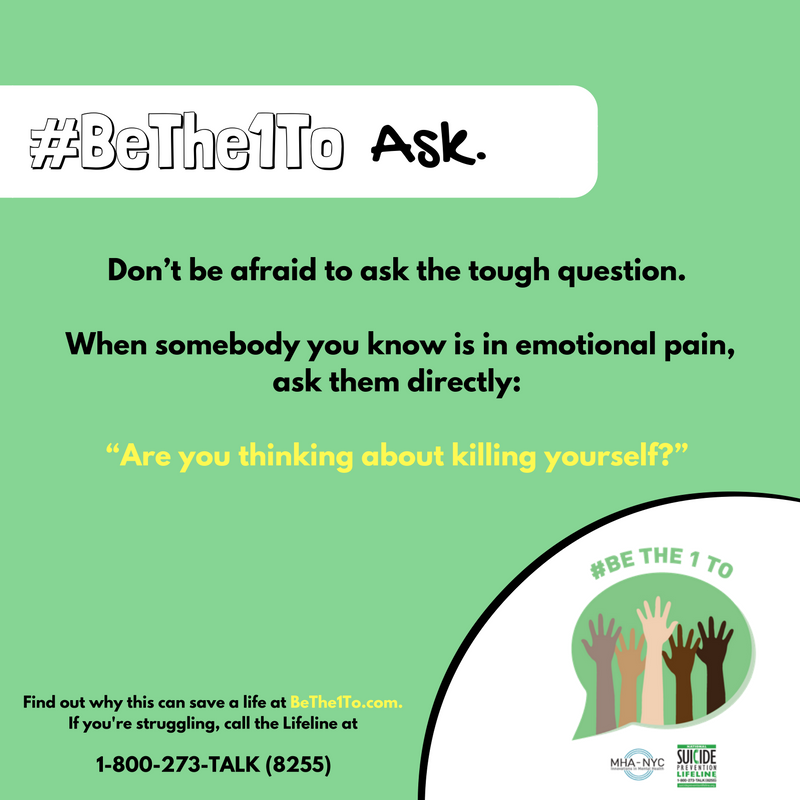 Blessings,
Rev. Alan Johnson, Chair
Rev. Dr. Rachael Keefe, Vice-Chair
Robin Kempster, Parish Nurse, UCC MHN Secretary
Hannah Campbell Gustafson, MDiv, MSW, UCC MHN Treasurer
Rev. Amy Petré Hill, JD, Member-at-large
Jon Gilbert Martinez, MDiv, Member-at-large
Rev. Jack Abel
Bishop Allyson Abrams, DMin
Dr. Vicki K. Harvey, PsyD
Rev. Dr. Marty Kuchma
Rev. Lisa LeSueur
Rev. Kirk Moore
Rev. Megan Snell
Rev. Shernell J. Edney Stilley
Rev. Dr. Jan Remer-Osborn