Walk with NAMI Colorado and NAMI Boulder County in2023The power of our mission is being felt as never before. The achievement of "Mental Health for All" has never felt this critical yet closer to being realized.It's not how far we walk at NAMIWalks Colorado on May 13 at Centennial Center Park, but how far we've come to make our milestones count. With your support and high spirits, we intend to make an unprecedented impact on mental health in our community.NAMIWalks 2023 represents a powerful chance to leave a significant mark on the local mental health landscape.Whether you're a previous participant or a new voice waiting to be heard, we're pretty sure you'll find the festivities inspired and inspiring.This year, changing the world begins at Centennial Center Park.See you there!Well-behaved and leashed dogs are welcome at NAMIWalks Colorado.ALL TOGETHER – FOR MENTAL HEALTH FOR ALL#Together4MHJOIN TEAM NAMI BOULDERNow, more than ever before, fundraising for NAMI is crucial. People living with mental health conditions are counting on funds raised by people like us to ensure that programs continue to serve those in need. Please make a donation or ask for donations and help us to reach our goal. Thank you!
Emerge 5K RunA FREE FAMILY FUN RUN/WALK TO BENEFIT RISE AGAINST SUICIDEThe Emerge 5K is our biggest annual fundraiser, and the funds we raise ensure that we can continue to fulfill our organizational mission of breaking the social and financial barriers to mental health care for youth. Each year, Rise Against Suicide funds thousands of therapy sessions for youth under the age of 19 who are uninsured or underinsured and burdened with suicidal ideation. Join us, either in person or virtually, for a morning of community, live music, fun, prizes, and more! Registration is FREE!
Join the Mindful Works Community to celebrate our mission and raise funds to support overcoming barriers and realizing a brighter future. April 26, 2023 at the Dairy Arts Center2590 Walnut St, Boulder, CO7:30-9:30 am. A wonderful breakfast provided by Ruthie's Boardwalk Social and coffee from Lost City Coffee. We will have silent & live auctions, paddle raise, and a chance to hear our program participants' storiesJoin us in celebrating the empowering and affirmative mission of Mindful Works.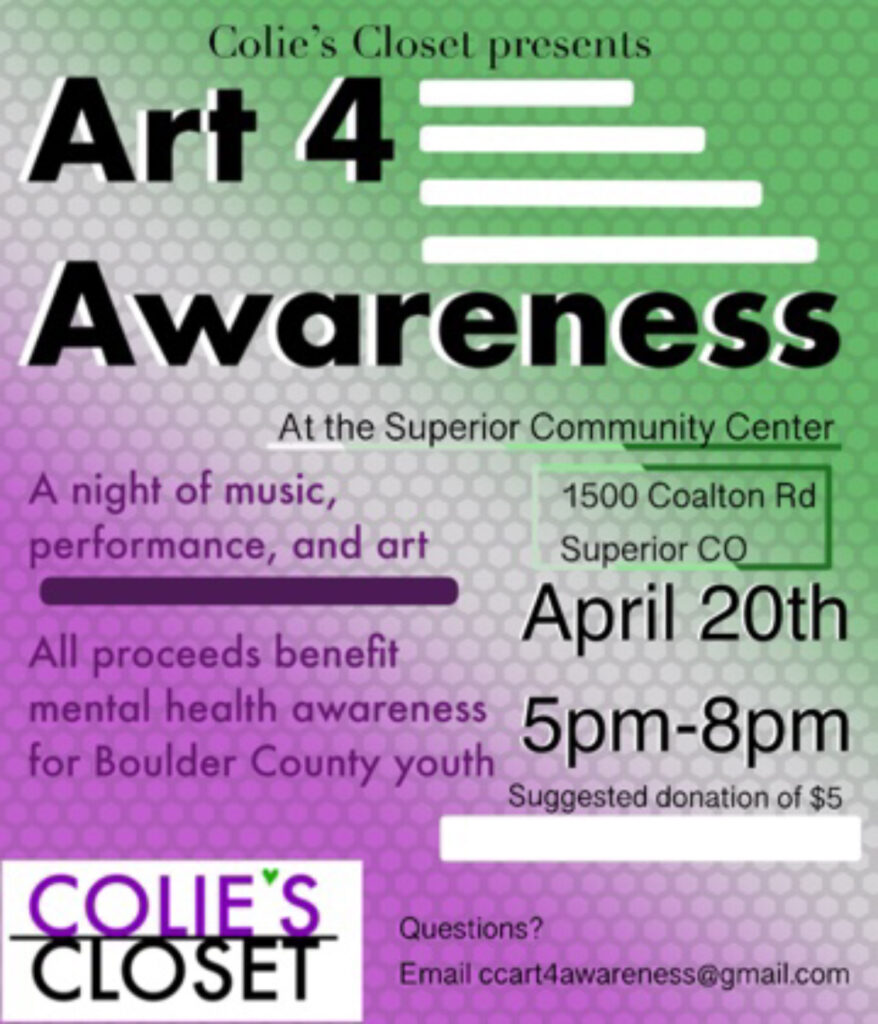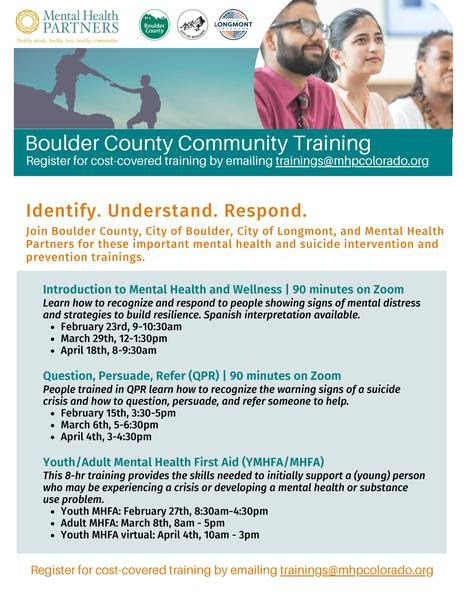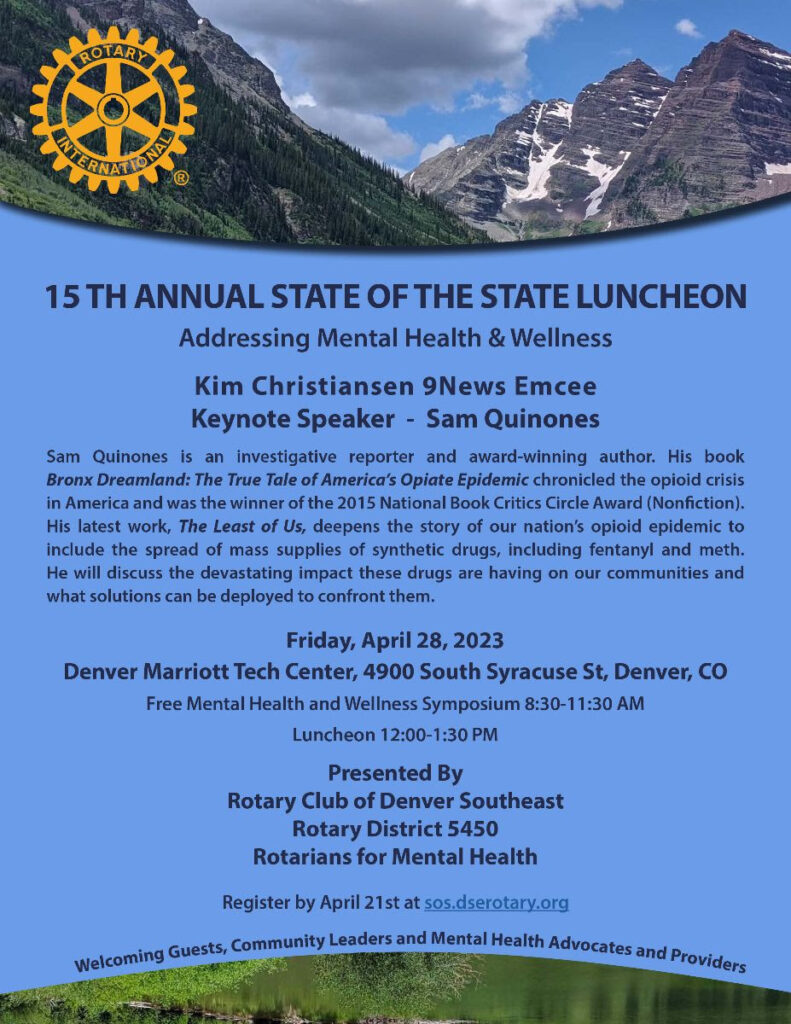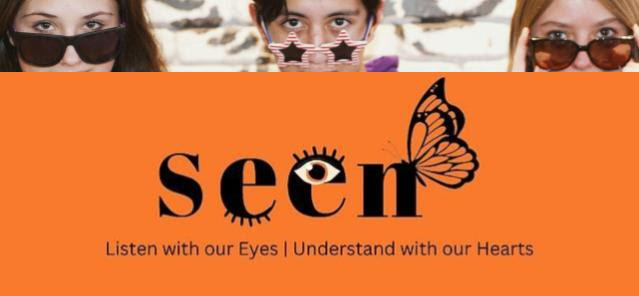 SEEN Teens Call for Art, Poetry, Music… and other support

A team of Boulder High School students in collaboration with Creativity Alive – a multi-disciplinary community arts organization in Boulder, Colorado – are organizing a series of "SEEN" Listen through our Eyes. Understand through our Hearts. exhibits and events, starting in April. Their mission is to cultivate mental health, creative expression, and human connection in this difficult world we live in.

The first SEEN exhibits will rotate at OZO Coffee East Pearl through April & May with performance and collaborative art-making events on April 7th, 5:30 – 8 pm and May 7th (time TBD). You are formally invited! (Additional dates may be added.) Sign on to www.CreativityAlive.org e-list to stay in the loop.

The deadline for submissions for art, music, poetry, spoken word… (by teens or adults) is March 8th, but extensions may be granted specifically for our community by contacting [email protected]

We can also support this effort and these teens in other ways by
helping them find additional venues,
hosting them yourselves,
or supporting the project financially.
See www.CreativityAlive.org/seen for details. Email [email protected] with any questions or suggestions.
SafeTALK
SafeTALK is a half-day training program that teaches participants to recognize and engage persons who might be having thoughts of suicide and to connect them with community resources trained in suicide intervention. SafeTALK stresses safety while challenging taboos that inhibit open talk about suicide. In this course, individuals learn valuable intervention resources and tools to identify and avert suicide risks.
Upcoming Offerings
Thursday, May 18th: 4:00-8:00pm
Register by emailing [email protected]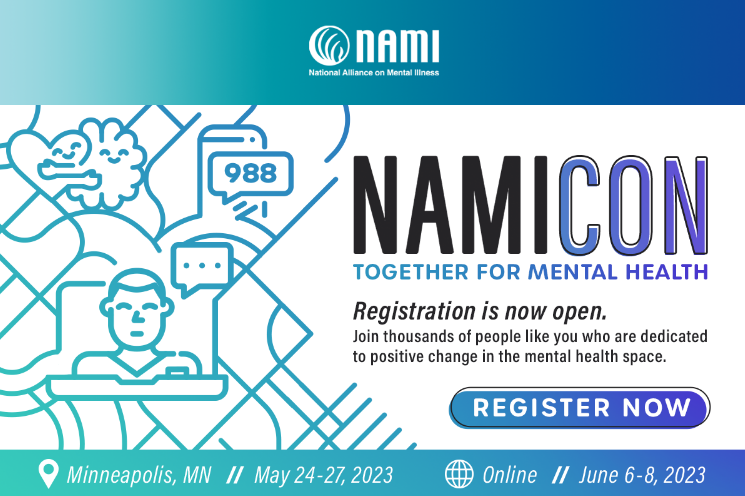 Get ready for an energizing in-person and online experience celebrating all the unique and important voices — including yours — who are creating positive change in mental health. Whether you're a long-time NAMI advocate or brand-new to our movement, NAMICon is for you. If you have a story to share and a passion for mental health awareness, advocacy and education, you have a spot with your name on it at NAMICon. Learn more and register here!